The title "FIVESTONES" refers to a skill game with five little stones popular with children in Afghanistan. The name of the plateform alludes to the ability to create something of value with creativity and skill. At the same time, the five stones symbolize the core values of the association: tolerance, creativity, empathy, commitment and authenticity.
The Logo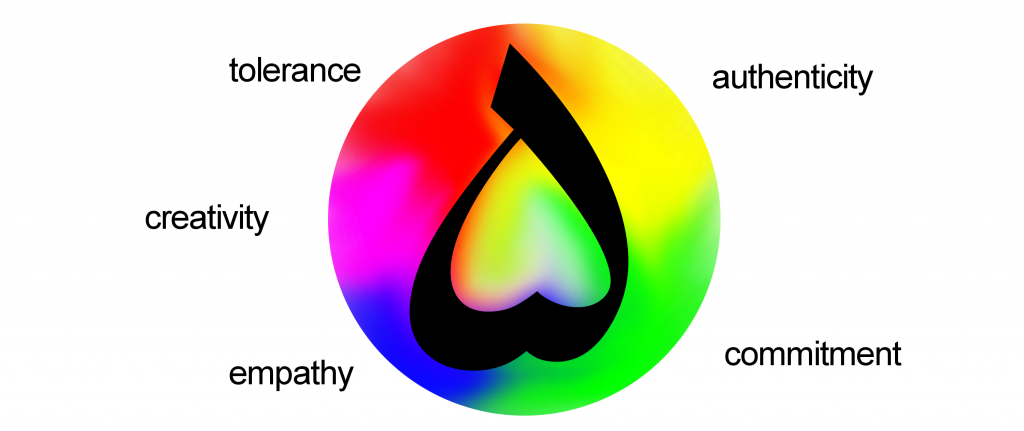 The logo shows the number "5" in Arabic script on a colorful background. The Arabic five resembles a reversed heart symbol and represents the love with which the projects are implemented in FIVESTONES. The five different colors in the background symbolize the five core values of FIVESTONES: tolerance, creativity, commitment, authenticity and empathy.
 FIVESTONES
In doing so, the platform endeavors to track down the existing resources in the population, to use them and to bring them together in networks in order to make them effectively accessible to the common good. By using previously hidden potential, it is attempted to create added value locally and to strengthen the individual regions. By organizing events, workshops and conferences, all those people with migrant background who wish to share their knowledge and experience in multiculturalism, integration and peace work will be given time and space. At the same time, through its willingness to cooperate, the platform also functions as a central institution in the Afghan-Austrian Diaspora, initiating, designing, organizing and coordinating new projects.

feeding the good wolf
Legend has it that in every human being there is a lifelong battle for dominance between two wolves.
One is a bad wolf. It is hatred, rage, envy, pain, greed, arrogance, self-pitty.
The other is a good wolf: It is love, joy, peace, kindness, humility, goodwill, empathy.
Which wolf is going to win the battle and control our lives?
The winner will be the one we feed.
We want to feed the good wolf in us human beings, so it grows stronger and comes to light more and more.